No one ever thinks about being injured until the unthinkable happens. One day, it could be you or someone you love
If it happens to you, do you know what to do? A personal injury lawyer in Perryville, MD, can help you make sense of it all. Parker, Pallet, Slezak & Russell, LLC is the law firm you can entrust with your personal injury matters. We will gather evidence to ensure the best possible outcome for your compensation.
At Parker, Pallet, Slezak & Russell, LLC, there is no fee unless we win. We offer free initial consultations, allowing you to learn more about how we can help your case. Contact us today!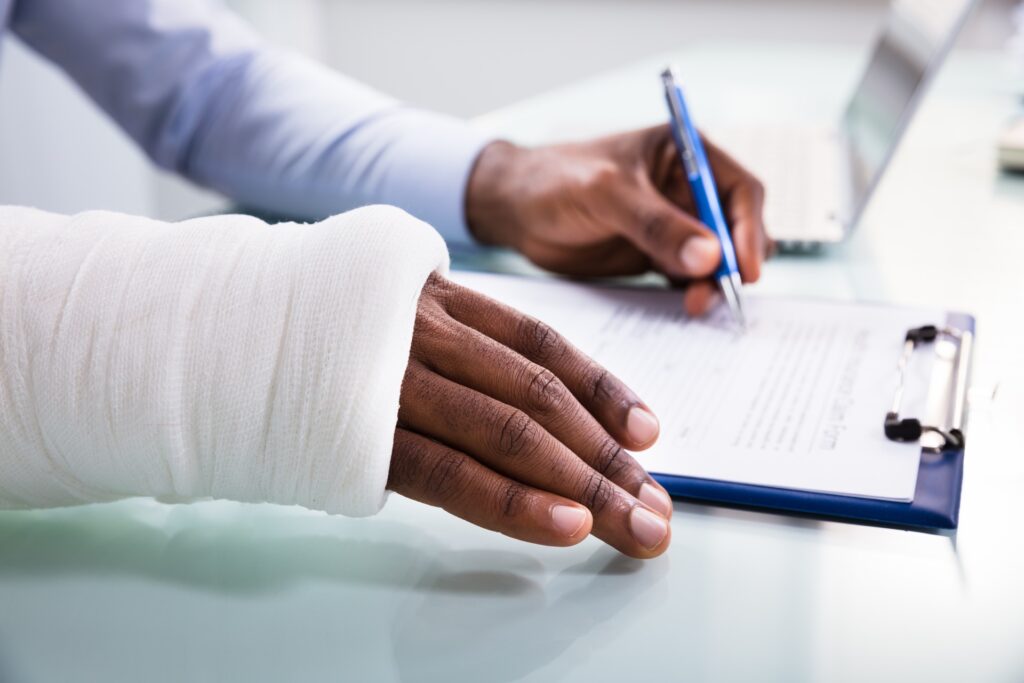 Types of Personal Injury Cases Handled by Attorneys in Perryville, MD
Personal injuries are an extremely broad topic. Under this umbrella, a personal injury lawyer in Perryville can help you get the compensation you deserve for the following types of injuries:
Car Accidents
Car accidents rank at the top of the most common personal injuries. You may be driving to work when someone rear-ends your car. You could be taking your children to soccer practice when a reckless driver T-bones your vehicle. An intoxicated driver could careen across the median into your front end for a head-on collision.
These scary scenarios happen more often than you may think. According to the graphic below, Maryland ranks 4th in the country for the most accidents, with 13.22% of drivers having a prior accident on their record.
No matter the type of car accident, the after-effects can last a lifetime, both for physical and emotional injuries. Make sure you have a personal injury lawyer in Perryville, MD working hard on your behalf. At Parker, Pallet, Slezak & Russell, LLC, we will be by your side to get you the proper compensation.
Other Serious Accidents
Motorcycles must share the road with cars and trucks of all sizes. Even with a helmet, motorcyclists are at a higher risk of more serious injuries and have a higher likelihood of fatalities on Maryland's roads.
Whether you're riding a motorcycle or in a passenger vehicle, a collision with a commercial truck has dire consequences. Most truck accidents result in catastrophic injuries and death.
On the water, boats offer an exciting way to spend your days outside of the office. However, accidents can happen out on the open water. Without seatbelts or airbags to protect you, you may suffer lifelong injuries due to the negligence of someone else.
For all types of accidents, it takes a personal injury attorney in Perryville, MD that has the experience to stand up for you. At Parker, Pallet, Slezak & Russell, LLC, we only get paid when you win. Contact us today at 443-234-0374 to get a free consultation on your case.
Traumatic Brain Injuries
Traumatic brain injuries can occur in car accidents and other personal injury cases. When someone suffers from this type of injury, it could result in severe damage to the brain that impacts mobility, comprehension, cognition, and overall quality of life.
If you or someone you love has suffered a traumatic brain injury, you need an experienced personal injury lawyer to help you navigate the road ahead. These types of injuries may require lifelong medical care and can prevent you from returning to work, putting you further in debt.
Wrongful Death Cases
You deserve to grieve the loss of your loved one without adding more stress to the situation. If someone you love has died because of the injuries from an accident caused by another party's negligence, it is imperative that you contact the law firm of Parker, Pallet, Slezak & Russell, LLC to fight for your wrongful death claim.
Medical Negligence
When you go to the doctor or have surgery, you expect a certain level of care. Medical professionals must uphold an oath to care for their patients. If you were harmed during surgery, issued an incorrect prescription, or was in a situation where your medical needs were not properly met, you can file a suit. Doctors and medical institutions owe you a duty of care and our personal injury team will see to it that you are compensated for suffering medical malpractice.
Slips and Falls
Slips and falls are another common area of personal injury. You could be at a supermarket and slip on a wet floor that had no warning for this danger. This example would also fall under premises liability, where a proper warning must be present or the owner can be held liable.
Dog Bites
When an aggressive dog bites you, the owner of that dog needs to be held accountable for your injuries and suffering. Dog bites can leave lasting damage, and in some cases, cause such severe injuries that you must be rushed into surgery. Contact Parker, Pallet, Slezak & Russell, LLC at 443-234-0374 to discuss your case today.
What to Do After You've Been Injured
If you have been injured because of someone's careless actions, you shouldn't wait to seek representation. Parker, Pallet, Slezak & Russell, LLC specializes in these areas of personal injury claims, working on your behalf to get the fair compensation you deserve.
Accidents and injuries happen all the time, but you may not know how to handle them when they happen to you. Our law firm handles cases like yours every day, working hard to help our clients to get the compensation they deserve so they can move forward with their lives.
There is no fee unless we win, and we offer free initial consultations to discuss the particulars of your case. Contact Parker, Pallet, Slezak & Russell, LLC today to get started on recovering your financial losses from a tragic event.