Losing a loved one due to someone else's negligence is a devastating experience. Fatal trucking accidents, animal attacks, motorcycle accidents, medical malpractice, car accidents, and other personal injuries can leave families emotionally and financially burdened.
In this article, we'll explore the role of wrongful death lawyers in Maryland and how experienced personal injury attorneys use their knowledge of personal injury law and their commitment to securing justice for their clients to recover compensation in wrongful death claims. Contact our personal injury lawyers for a free initial consultation to discuss your personal injury claim today.
Wrongful Death and Your MD Personal Injury Lawyer
The Maryland injury lawyers at Parker, Pallett, Slezak & Russell use our rich history of representing personal injury victims to ensure our clients receive the compensation they need to cover medical bills, lost wages, property damage, and other out-of-pocket expenses.
There is no dollar amount that can be put on the life of a loved one killed by medical negligence, car accident, or any other personal injury. The surviving family members may file a wrongful death claim to recover losses such as:
Funeral and burial expenses
Loss of affection, society and companionship
Loss of lifetime earning potential
Medical expenses the deceased accrued before they succumbed to their injuries
Call our personal injury firm today at (443) LAWYERS to discuss your loved one's untimely demise and how your Essex personal injury lawyer can help you navigate the intricacies of your claim.
Essex Wrongful Death Claims
Essex, MD Personal Injury Lawyers can work closely with you to understand the extent of your loss, including the emotional distress and mental anguish you've suffered. Our law offices will then use that information to hold the at-fault party responsible for your loved one's fatal car crash, motorcycle accident, or medical malpractice case.
Building a Strong Wrongful Death Case
In wrongful death cases involving car accidents, medical malpractice, or other incidents, our attorneys have extensive experience. For experienced legal representation, sit down with us to learn how we can help you recover full and fair compensation in one of our free initial consultations. Call (443) LAWYERS and get started on your Essex, MD personal injury claim today.
Negotiating Fair Compensation in Essex, MD Traffic Accidents
Insurance companies often attempt to minimize payouts to wrongful death claimants. Our wrongful death lawyers in Essex, Maryland are well-versed in negotiating with insurance companies and handling communications with our clients. We will evaluate their settlement offers to ensure our clients receive maximum compensation, accounting for the economic and non-economic damages they suffered.
Essex Personal Injury Lawyer Legal Representation
Negotiations with insurance companies do not always yield satisfactory results. In such cases, our Essex personal injury lawyers can take your case to court. With their extensive experience in personal injury litigation, your personal injury attorney can provide aggressive representation during trial proceedings to fight for justice on your behalf.
Essex Maryland Wrongful Death FAQs
By navigating the complexities of wrongful death claims, our lawyers offer comprehensive legal services that ensure your family can focus on healing and rebuilding your lives. Read on for more important information on how a Personal Injury Lawyer in Maryland can be helpful:
Who Can File a Wrongful Death Suit in Maryland?
In the state of Maryland, a wrongful death lawsuit can be filed by a "primary beneficiary" or a "secondary beneficiary." A primary beneficiary is defined as:
A spouse of the deceased
A parent of the deceased
A child of the deceased
If there are no primary beneficiaries, a secondary beneficiary can be:
A person related to the deceased by blood or marriage and who was substantially dependent on the deceased
Since Maryland law can be complex, it can be beneficial to consult with a Maryland attorney specializing in wrongful death suits, like an MD personal injury attorney from Parker, Pallett, Slezak & Russell.
What Is the Statute for Wrongful Death in Maryland?
Maryland wrongful death laws allow certain close relatives of a deceased person to file a lawsuit if the person died due to someone else's fault. This includes deaths caused by negligence, reckless behavior, or intentional acts.
Primary beneficiaries are close family members and are those who are allowed to file a wrongful death claim.
Generally, a wrongful death MD personal injury claim must be filed within three years of the person's death.
Damages in a wrongful death suit can include compensation for:
Mental anguish
Emotional pain and suffering
Lost wages and benefits (including what the deceased likely would have earned in the future)
Medical bills
Funeral and burial costs
If more than one person is eligible to recover damages, Maryland law allows the court to divide the damages among the beneficiaries. Maryland has a cap on non-economic damages in wrongful death cases, which increases slightly each year.
This answer does not include every nuance of Maryland's wrongful death laws, and the MD personal injury laws can change over time. Consult with a licensed attorney law office for the most accurate legal information available.
What Is the Statute of Limitations for Wrongful Death in Maryland?
In Essex, MD, the statute of limitations for wrongful death is generally three years. This means a wrongful death lawsuit and each resulting personal injury case must be filed within three years of the date of the decedent's death.
Since laws can change and the interpretation of laws can vary, consult with licensed Essex personal injury attorneys in your community to understand the most current and relevant legal rules and regulations.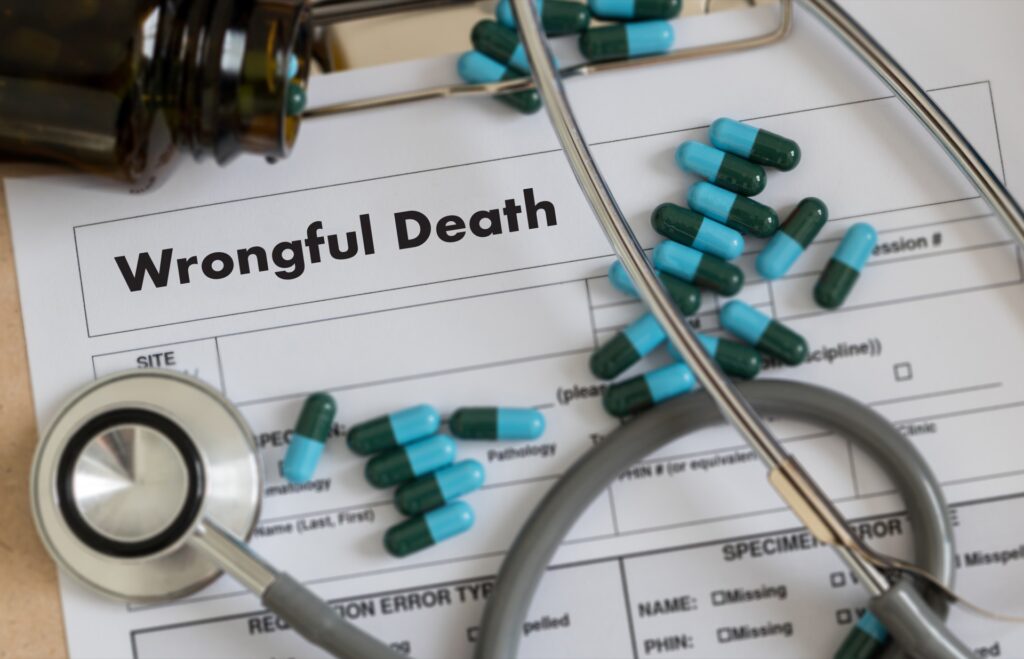 What Is the Survivorship Statute in Maryland?
A survival action is a type of lawsuit that can be brought by the estate of a deceased person. A survival action seeks damages for the harm the deceased suffered from the time of injury to the time of death. A survival action is a claim the deceased could have made if they had survived.
Under Maryland's survival statute:
The personal representative of the deceased person's estate can file a survival action.
The damages compensate for the pain and suffering, medical expenses, and lost wages from injury until death, plus punitive damages when applicable.
The damages recovered in a survival action become part of the deceased person's estate and are distributed according to the terms of the will, or if there is no will, according to Maryland's intestate succession laws.
How Can Personal Injury Lawyers Assist in My Wrongful Death Case?
The lawyers at Parker, Pallett, Slezak & Russell have been helping the people of Maryland with their legal issues for several years. If you need someone to help you fight for compensation after the death of your family member, reach out to us today to learn more about our legal services and set up a free consultation with a member of our team.