When you get injured at your workplace, a personal injury lawyer in Maryland stands ready to step in, offering more than just legal advice. We have deep domain knowledge of the Maryland workers' compensation law, and we are passionate about using our legal skills, experience and resources to protect your rights.
Navigating a workplace injury claim in Maryland can feel like you are lost in a labyrinth of paperwork and legal terms, while you are still undergoing treatment for your injuries. You don't have to pursue your claim or fight the insurance company alone. Our legal team with diverse backgrounds, including a retired judge, a former prosecutor, and ex-insurance defense attorneys, brings a 360-degree perspective to your claim. We cut through the red tape, simplifying the complex issues and making sure your compensation is maximized.
Four and a half decades of dedication to our clients have taught us one thing: each case is as unique as the injured victim behind it. We don't just work on your case; we work with you, making sure you are informed and supported every step of the way. Reach out to our experienced personal injury attorneys today at (443) LAWYERS to schedule a free consultation.
Common Workplace Injuries in Maryland
No matter which industry you work in, there are several ways your job can result in an illness or injury.
Falls from ladders, roofs, or scaffolding
Amputation injury from a sharp tool or machinery
Struck by falling objects or debris
Slip and fall injuries
Heavy machinery accidents
Motor vehicle accidents
Exposure to toxic chemicals or hazardous materials
Overexertion injuries from heavy lifting, pushing, or pulling
Repetitive strain injuries (like carpal tunnel syndrome)
Violence at workplace
Maryland Workers' Compensation Laws
According to Maryland Code § 9-101, an injured worker is eligible for a workers' compensation claim if the accident occurred during the course of employment. In other words, if you are injured while doing your job, you may be eligible for compensatory benefits for lost wages, medical bills, and more. This law also covers injuries caused due to someone else's negligence during work, so if another person's carelessness at work led to your injury, you can file a claim.
Maryland workers' compensation law doesn't just cover immediate injuries; it also includes diseases that result from a workplace injury. Occupational diseases, sunstroke, and frostbite, which might develop over time, are also covered. However, an injury by itself does not justify a claim – the injury or illness should be such that it affected your ability to work.
Here are some additional rules regarding filing a workers' comp claim in Maryland:
You must notify your employer about the injury within 10 days of the accident occurring. For occupational diseases, the notice must be given within one year after you've known about the disease.
You must file a claim with the Maryland Workers' Compensation Commission within 60 days of the accident, but no later than two years
Employers are required by law to carry workers' compensation insurance to cover all their employees, including minors, part-time employees, and most contractors.
What Benefits are Available to Injured Workers in Maryland?
An injured worker is entitled to several types of workers compensation benefits, including:
Medical benefits: Coverage for all medical treatments required due to the work-related injury.
Temporary total disability benefits (TTD): Payments typically equal to two-thirds of your average wage if you're entirely unable to work temporarily.
Temporary partial disability benefits (TPD): Benefits to cover the wage difference if you can work partially but earn less due to the injury.
Permanent total disability benefits (PTD): Long-term payments typically equal to two-thirds of your average wage if you're unable to return to work permanently.
Permanent partial disability benefits (PPD): Compensation for permanent impairment that still allows some work, with benefits varying based on severity and affected body part.
Vocational rehabilitation: Services like job retraining and placement assistance if you can't return to your previous job.
Death Benefits for Workers' Compensation in Maryland
If you are a dependent of an employee who has unfortunately passed away due to an occupational disease or accidental injury at work, you are entitled to receive compensation from the employer or its insurer.
Starting from the date of the worker's death, the employer or their insurance company is obligated to provide these benefits for a period of 144 months. The amount you receive is usually calculated at two-thirds of the deceased worker's average weekly wage at the time of the accident or last injurious exposure, up to the limit of the state average weekly wage.
If you are a dependent spouse who hasn't remarried, these benefits will continue until two years after the date you remarry. If you're a dependent child, you can receive benefits until you turn 18. However, if you're still in school or have a physical or mental disability that prevents you from supporting yourself, you may continue to receive benefits past the age of 18.
However, if the deceased did not leave behind any dependents, the compensation that would have been payable to a surviving spouse will be paid to the parents, brothers, or sisters, if they were partially dependent on the income of the deceased employee at the time of the accident.
The employer or insurer is also obliged to cover the funeral expenses up to a certain limit.
How Does the Workers' Compensation Claim Process Work in Maryland?
In Maryland, you don't need to prove your employer was at fault for your injury to qualify for workers' compensation. As long as your injury is work-related and you follow the correct claims process, you should be able to start receiving benefits. Here's what you need to do:
Notify your employer of your injury within 10 days; failure to do so could affect your eligibility for compensation. In case of an occupational illness, you have up to one year to file this report.
If needed, fill out an accident report with your employer. This should be done as thoroughly as possible and include any evidence available.
Your employer will then report the claim to their insurance company.
Begin treatment with a healthcare provider.
File a claim with the Maryland Workers' Compensation Commission (MWCC). This is generally required within 60 days of the accident.
The MWCC will notify the employer and the insurance company about the claim.
The insurance company will investigate the claim, potentially including a review of medical records and work history.
The insurance company will make a decision on the claim, often within 21 days.
If the claim is denied, an appeal can be filed with the MWCC.
Keep in mind that there are several reasons why your claim might be denied. These could include incomplete information in your application, the nature of your injury, or other specifics related to your case. Even when an injury is clearly serious, denials are not unusual. Therefore, it's advisable to file your claim under the guidance of a Maryland workers' compensation attorney at Parker, Pallett, Slezak & Russell, LLC.
How to Appeal a Denied Workers' Comp Claim in Maryland
If you, as an injured employee, find yourself in a situation where your workers' compensation claim has been denied, or you're not receiving the full benefits you are entitled to, it's time to initiate the appeal process.
Fill out an Issues Form found on the MWCC website to request a hearing. This is where you will outline your disagreements with the denial.
Once you've got a hearing date, start gathering all the documents you will need, such as medical records or pay stubs.
When your hearing day comes, you will present your case in front of a Commissioner. Both you and your employer (or their insurer) will get the chance to show evidence and bring in witnesses.
After the hearing, the Commissioner will make a decision. You'll receive this decision through the mail.
If you're not happy with the decision, you can take it to the Circuit Court within 30 days of the MWCC's decision.
If you're still not content after the Circuit Court's decision, you can take your appeal even further to the Maryland Court of Special Appeals and, finally, the Maryland Court of Appeals.
Remember, you don't have to do any of this on your own. Our Essex, MD personal injury lawyers will be happy to guide you through the entire appeal process, and fight tooth and nail to get you the compensation you deserve.
Why Choose Us for Your Workers' Compensation Case
At Parker, Pallett, Slezak & Russell, LLC, we bring something unique to the table – a combination of experience, personal attention, and passion that sets us apart from other firms in Maryland.
Proven record of large settlements and verdicts
Our attorneys' dedication and expertise have led to an impressive record of large settlements and verdicts. With the combined legal experience of 250 years, we have handled over 10,000 cases and secured over $100,000,000 in compensation for our clients, reflecting our ability to obtain the best possible outcomes. This track record gives us a strong leverage when dealing with insurance companies.
Personalized approach
From day one, you will meet with a worker's comp lawyer who will stay with your case from start to finish. We take the time to get to know you and understand the full impact of your injuries. We want you to feel heard, understood, and confident in the legal process.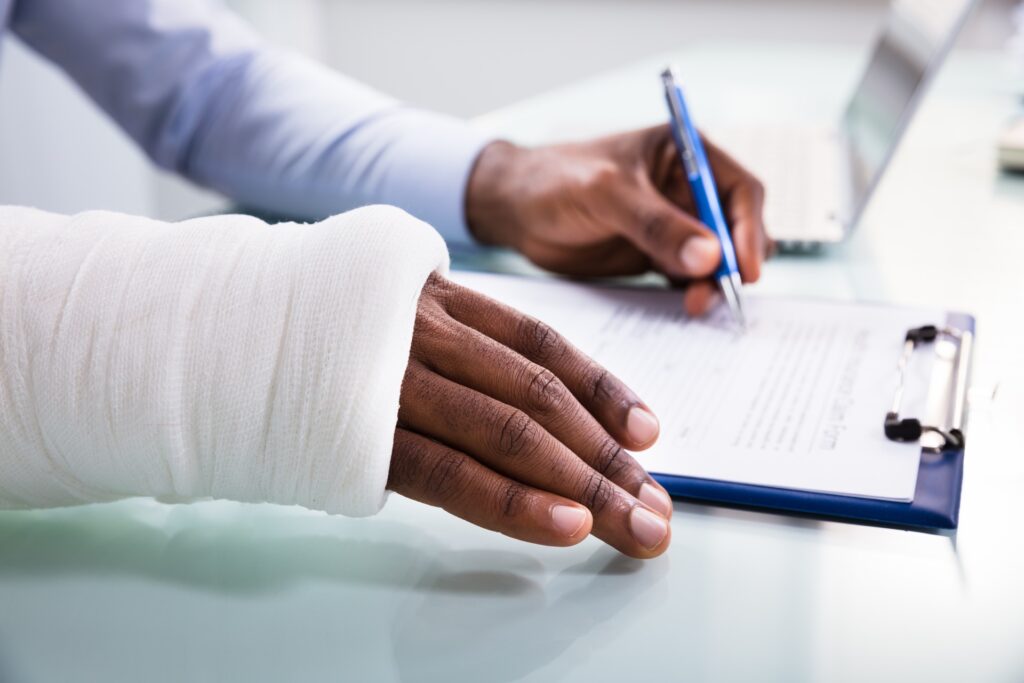 Aggressive negotiation
We are tough negotiators. Insurance companies are known for trying to reduce payouts on a workers' compensation claim, but we are ready to stand up for you. We are relentless when it comes to maximizing your compensation, and we won't back down until we have fought for every penny you are entitled to.
Building strong evidence
Our team is well-versed in gathering and interpreting evidence to build a rock-solid case. We leave no stone unturned, whether it's combing through medical records, scrutinizing accident reports, or working with expert witnesses to better understand the circumstances of the accident.
Schedule Your Free and Confidential Consultation Today
Our workers' compensation lawyers work on a contingency-fee basis, which means we only get paid if and when we win your case. Contact our personal injury lawyers with our experienced worker's comp attorney today. You can also give us a call at (443) LAWYERS or 443-234-0557.